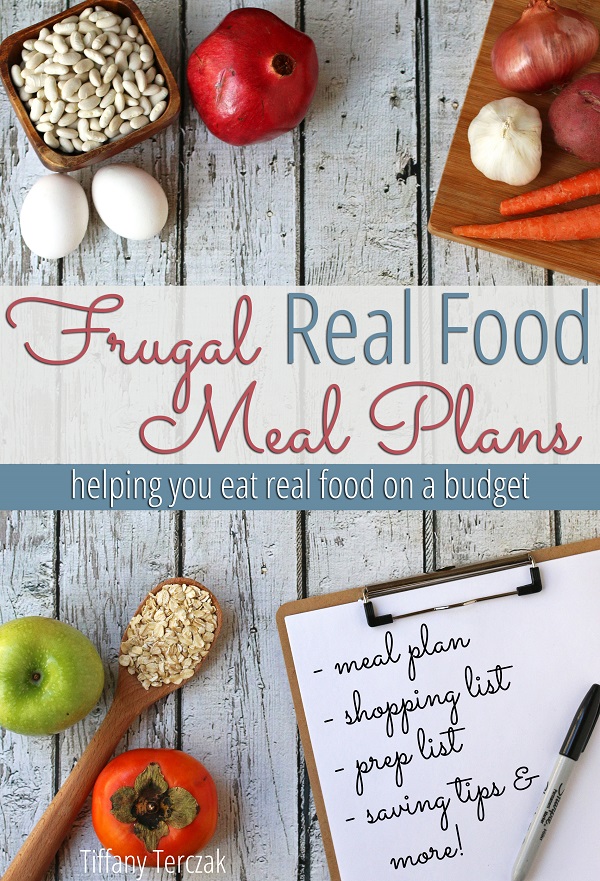 "It's like having a real-food, frugal-foodie holding your hand each step of the way, planning your menu AND saving you money!"
That's what I heard Tiffany (of Don't Waste the Crumbs) say during our Skype interview (coming soon). When she said it my heart melted and I knew this was made just for me! Of course, I wanted to share it with you!
She has been blogging about real food for over 2 years and has amassed quite the treasure of straightforward information and recipes on her blog, Don't Waste the Crumbs.
Her post about partially hydrogenated vegetable oil in coffee creamers convinced me stop drinking creamer in my coffee. Her post about natural toothpaste and face cleanser that she makes is causing me to consider buying Redmond Clay. Would this free me from the guilt of paying full price for toothpaste (gasp, yes I am a terrible coupon-er!). Maybe it could even help my cold-sensitive crown.
And now….
She has made a meal plan that we can subscribe to that will not only help us eat real food consistently, it will also save us money (she posts her $330 monthly food budget each month on her blog).
She is including the meal plan, the shopping list, money saving tips and more!
For a week she has her Frugal Real Food Meal Plans specially priced! Don't miss this opportunity to begin 2015 with your menu already planned! Plus, your budget already thanking you!!
Here is the link to register and learn more about this meal plan subscription.
This year Chelle and I are reaching our goals more intentionally by taking one month at a time. January we'll be focusing on eating healthy. We'll be menu planning (I'll be cheating taking advantage of the Frugal Real Food Meal Plans!), eating real food, setting our own food goals and sharing with weekly posts.
Tiffany will be our first expert guest interview. The show has been recorded already and is scheduled to air the first Wednesday in January.
But…
Chelle, who edits and produces our shows, has been in severe pain for several weeks due to a ruptured disk in her back. Please pray for her as she has experienced side affects to pain medicine, underwent back surgery,  and then was recently readmitted to the hospital for blood clots in her lungs and leg.
What are your goals for the new year? We'd love if you joined us this year focusing on eating healthy in January. Make it easy by subscribing to Frugal Read Food Meal Plans with me!